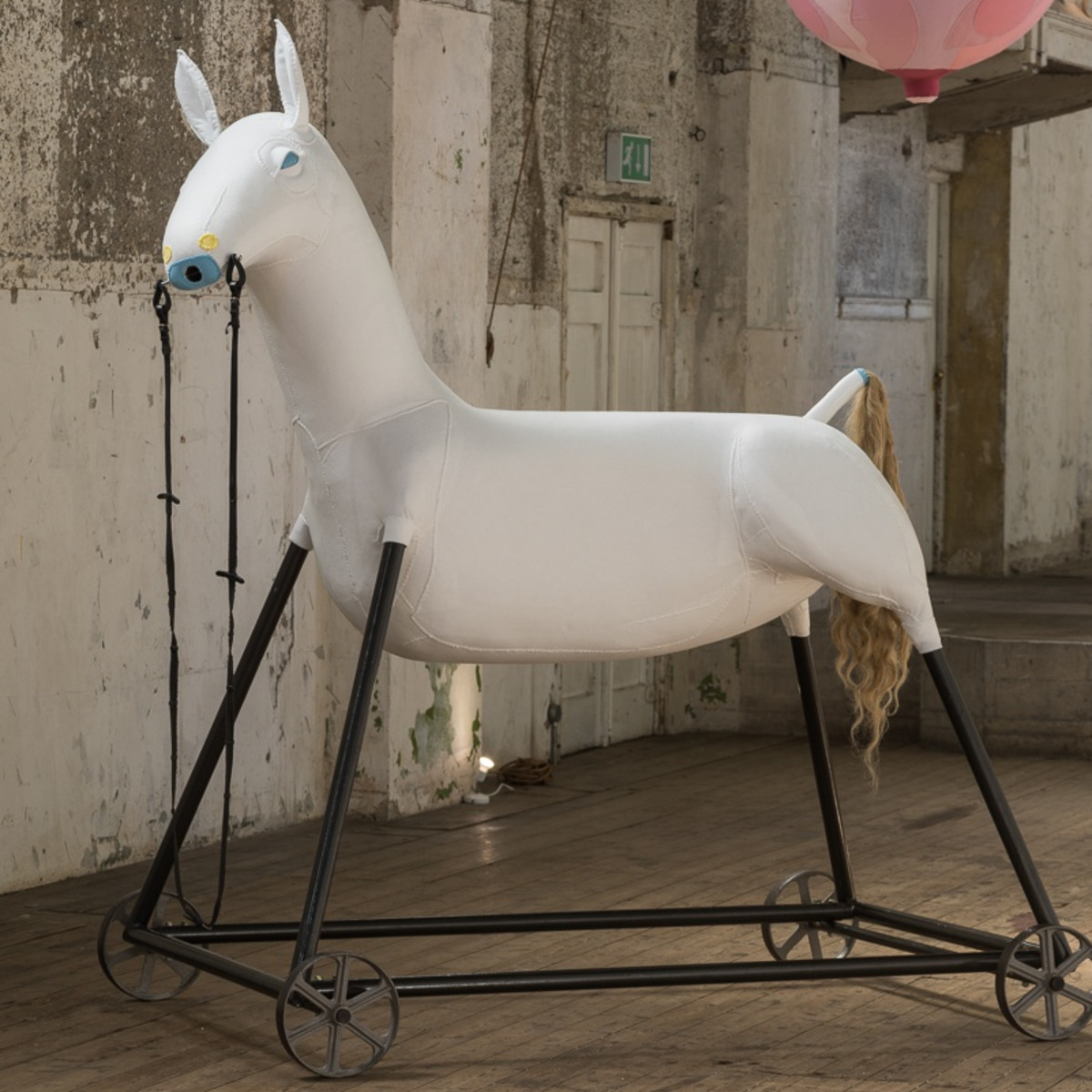 "There's no place like home, there's no place like home, there's no place like home…" Suddenly, images flash through your mind of a baby blue gingham-bedecked Dorothy clicking the heels of her red sequined shoes. The artwork of British artist Jonathan Baldock is equally transportative. Baldock blurs the line between art and theatre with his cast of enigmatic characters – typically meticulously crafted, soft, pastel pink sculptural assemblages that focus on the human form with an unsettling sense of humour. Employing crafts traditionally associated with the domestic sphere, such as home felting, basket weaving, candle making, appliqué, ceramics and stitching, Baldock's multidisciplinary practice incorporates painting, sculpture, performance and playful installations, finding inspiration in the enchanted realms of mythology, masks, tribal rituals and folkloristic traditions. Like Dorothy's ruby slippers, Baldock's work has a performative element that encourages its audience to engage with it. For There's No Place Like Home at CGP London (on until 30 July 2017), Baldock's largest and first solo exhibition in a public institution in London, the artist, referencing the 1939 musical The Wizard of Oz, creates a symphony of surreal sculptures that play with scale, horror and marvel bordering on the grotesque. Baldock's work can also be seen in Hull (at the Hull Maritime Museum until 2nd July 2017 as part of its UK City of Culture programme throughout 2017) and in Blackpool (at the Grundy Art Gallery as part of a collaborative touring exhibition in three parts with fellow artist Emma Hart until 12th July).
On the occasion of Baldock's solo show spread over the two spaces of CGP London in Southwark Park, including Dilston Grove, the cavernous historic church that was one of the first concrete buildings of its size in Britain, Marcelle Joseph talks to Baldock about his theatrical sculptural practice and the new cast of characters he was commissioned to make for There's No Place Like Home.
Congratulations on your latest solo exhibition at CGP! Working in such an iconic and monumental building as Dilston Grove and covering two separate locales, how did you approach this show? What came first? The form or scale of the sculptures? The materials? The reference to The Wizard of Oz?
CGP commissioned me to make new works for their Dilston Grove (church) space. As you say, it is such an iconic space and could be viewed as an artwork in its own right! It is long, narrow and very high and so not an easy space to show in. I felt the work had to be made in response to these factors so I always knew that I wanted the work to utilise the height. From here, the idea of hanging works from the beams above evolved. This adds to the already very theatrical nature of the space – not just a church but a stage.
For me, showing in a church made it impossible not to think of mortality. The exhibition came about during a time when I was thinking a lot about the vulnerability and weakness of the human body. Of the shortness of life... I felt the need to oppose this and to make monuments to celebrate its strength and wonder. I started thinking about the church as a body and the sculptures within as fragmented body parts - kind of votives made monstrous. The Wizard of Oz connection quickly succeeded these ideas, and – firstly the idea of the homemade within the works, the significance of home to people today, but also that Oz is the home of all the unusual characters. Ozma is more interested in the unusual ones than the ordinary ones.
Your work is fascinated with the human body and its many orifices. For this show, the viewer encounters a human-scale votive candle adorned with waxen ears, a wicker chain that morphs into a human spine, chandeliers shaped like breasts hung from the ceiling and a sandy table in the form of an eye. Is your use of the body and its many parts a way of demanding that your sculptures perform for their audience?
Absolutely – I see these sculptures as very performative. Not just in their references to the body and their energy but also in the fact that they are often activated in performance by live performers. These interactions often leave the performer heavily costumed and seem less alive than the sculptures, and I love that!
Carrying on with the corporeal theme, do the bodily orifices depicted in your work have a sinister, sexual or violent side to them as well?
I enjoy the fact that orifices (particularly the word) often have sexual connotations, which in turn could be sexual or violent. For me, however, the orifice becomes a metaphorical portal to pass from one space to another. The doorway from the outer world to the internal world, the physical to spiritual. Orifices on the body are mouths, ears, noses and eyes and not just the anus, urinary meatus, vagina and nipples – which I guess carry more sexual connotations. I think these two aspects can easily run parallel as they do in life. It is the dark and light aspect of the world we live in… or does that make it sound too much like some life coach/guru??
Your work, idolising design, pattern and decoration and often imbued with a hint of the 'dressing up box', is laboriously made by the human body, using craft techniques associated with feminised labour. How did your interest in these domestic skills initially come about and how much of it is bound up in your own autobiography?
I learnt to sew from my nan. She sometimes looked after me when my mum was at work and being an older nan meant that she took care of me in front of the TV and showed me how to knit and sew – I loved it! Later it was my mum who passed on her sewing skills – the basic blanket stitch which is a bit of a staple within my work was taught by her. I've always said my childhood role models were three women: my nan, my mum and my sister. And I see them entwined in the work that I make. I believe these mediums have an honesty and integrity to them and are incredibly empowering. Being able to make work and construct work by hand – especially in the early days was incredibly important to me. Today, I am lucky enough to incorporate elements that I do make myself and I think the work is all the stronger for it.
Let's talk about your palette. Is it pastel pink, sickly pink, candy-coloured pink or flesh pink? Is colour integral to your work and on the flip side, is colour an important tool for the viewer to translate or decode your work?
Firstly, it is flesh pink but I like that it is also all of those other pinks. I love that it is one colour that has so many associations. Pink also has associations with childlike innocence so it becomes another tool with which I bring together opposing forces and I subvert and distort its reading with uncanny or darker elements.
For this show, you will animate your new work with performances by Vancouver's Kokoro Dance Company who will interact with your new commissions in Dilston Grove in bespoke, sculptural costumes. This is not the first time you have worked with performance artists and have made costumes for them. How did this collaboration come about with this Japanese butoh dance company and why the fascination with adorning the live human body in relation to your sculptural installations?
I was first introduced to Jay Hirabayashi and Barbara Bourget of Kokoro Dance through the curator of a show I had in Vancouver – Tobin Gibson in 2014. Tobin had organised for them to perform within my show, wear some sculptural costumes I had on display and activate some of the objects. We hit it off immediately and both expressed a keen interest in working together in the future. In 2015, they invited me to design the set and costumes for their piece 'The Book of Love'. Inviting them to come to the UK has long been a dream of mine and I'm very happy they have agreed to it. I had no prior experience of Butoh dance before working with them but I think what they do is incredibly powerful and a wonderful antidote to a lot of performance at the moment in contemporary art which seems to be focused on the young, bodies, complacency and posing.
Credits
Images 1-3 and 6: Jonathan Baldock, installation shot of "There's No Place Like Home" at CGP London (Dilston Grove), 2017, Photo: Damian Griffiths
Images 4-5: Jonathan Baldock, installation shot of "There's No Place Like Home" at CGP London (The Gallery), 2017, Photo: Damian Griffiths.
Image 7: Jonathan Baldock, installation shot of "Love Life: Act II" at The Grundy, Blackpool (collaborative exhibition by Jonathan Baldock and Emma Hart), 2017, Photo: Ian Brown.
Image 8: Jonathan Baldock, installation shot of "Toilers of the Sea" at Hull Maritime Museum, Hull (collaborative exhibition by Jonathan Baldock and Ian J Brown), 2017, Photo: Ian Brown.
Links
Jonathan Baldock: There's No Place Like Home, CGP London (15 June – 30 July 2017): http://cgplondon.org/jonathan-baldock/
Artist's website: http://jonathan-baldock.com
Offshore: artists explore the sea, Hull Maritime Museum, Hull (1 April – 2 July 2017): http://invisibledust.com/project/offshore-artists-explore-the-sea/
Love Life: Act 2 (two person touring show with Emma Hart), The Grundy Art Gallery, Blackpool (17 June – 12 August 2017): https://www.grundyartgallery.com/programme/forthcoming/
Belmacz Gallery, London: http://www.belmacz.com/artists/baldock_jonathan
Nicelle Beauchene, New York: http://nicellebeauchene.com/artists/jonathan-baldock/
About the Artist
Jonathan Baldock (b. 1980, Pembury, UK) graduated from The Royal College of Art in 2005. He has exhibited internationally, recent shows include: Offshore: Artists Explore the Sea, Hull Maritime Museum; SPACE Gallery, London; Love Life: Acts 1,2 & 3 (touring show with Emma Hart), Peer Gallery, London, The Grundy, Blackpool and De La Warr Pavilion (forthcoming); Conversation Piece/ Part 3, Fondazione Memmo, Rome; Baldock, Pope, Zahle, Northern Gallery of Contemporary Arts (NGCA), Sunderland; Notes from the Orifice, VITRINE Gallery, London (UK); The Soft Machine, Chapter Gallery, Cardiff; Hot Spots, The Apartment, Vancouver; A Strange Mix Between a Butcher's Shop and a Nightclub, Wysing Arts Centre, Cambridge. He has received international awards and residencies, including: Kunstlerhaus Schloss Balmoral Residency (2015), Abbey Fellowship, British School in Rome, Italy (2013); Residency – The Forest, Wysing Art Centre Cambridge, UK (2012); and Skowhegan, School of Painting and Sculpture Residency, Maine, USA (2007). Jonathan Baldock is represented by Belmacz, London and Nicelle Beauchene, New York.